Custom Holiday Cards and Stamps
Do you send out Christmas or holiday cards every year? I'll be honest. I never used to. Why?
Well, for one, I'm just so dag picky. I can't just send out (or do anything for that matter!) that is generic. The way I look at it is… if I'm going to put in the effort I might as find the best, or even create my own.
With that being said, for the last few years I've been using Minted for my holiday cards and not only am I completely amazed by their selection (which is beyond phenomenal), but also their awesome customer service and super fast shipping.
This post does include some affiliate links, but they are for your convenience. I promise! Please click here to read my full disclosure policy.

This year I decided to go with this Retro Peace Holiday Postcard because I just couldn't decide which photo to use, and this particular beauty allowed me to use two! Definitely a HUGE plus in my book.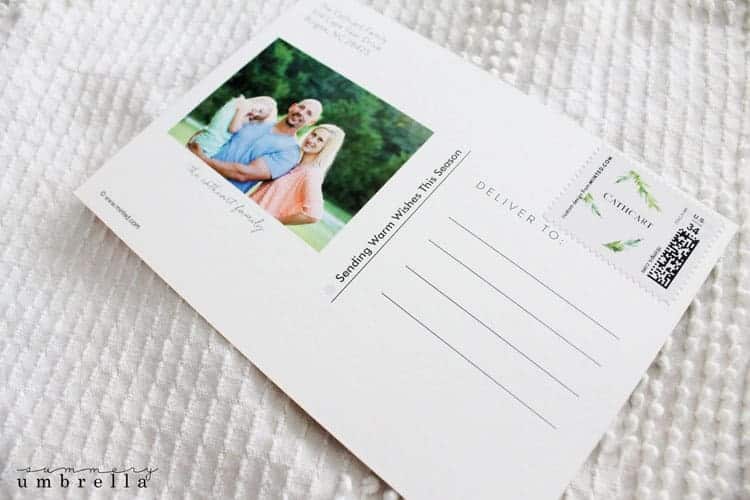 This particular design also allowed me to put in our address, family name, and also a custom message. Like I said earlier, I LOVE customized options.
Oh yea, did I mention that they now have custom stamp options to?! I decided to just use our last name, but this Simple Pine Branches Stamp worked out great with all of the green that I used throughout our holiday card.
Custom Holiday Cards and Stamps
You know what's pretty awesome about Minted? It is a design marketplace of independent artists from around the globe, and all their holiday cards are available with matching custom stamps, envelope designs, and FREE recipient addressing. Save time and make your holiday card beautiful from the inside out.
Plus, you can enjoy their FREE concierge address book service. Send them your addresses in any format, from envelopes to lists, and they will build your Minted Address Book.
Minted is also known for their high-quality paper and printing. Minted's Signature paper is thick and luxurious with a creamy cotton texture, and has been optimized for photo printing. You can also choose 100% recycled paper, Pearlescent paper which adds a subtle shimmer, DoubleThick paper or even TripleThick paper. Minted also offers postcards, ornament cards and 8 unique die-cut shapes. A variety of backer options allow you to add additional photos, text, and customization options to your holiday cards.
So, what are you waiting for? Head on over to Minted and design your very own holiday cards today!