FREE August Calendar Download: Desktop and Smartphone Backgrounds
Well hello, August! Looking for a new (and FREE) August Calendar download? Stop on by to get this beauty today for both your desktop and smartphone.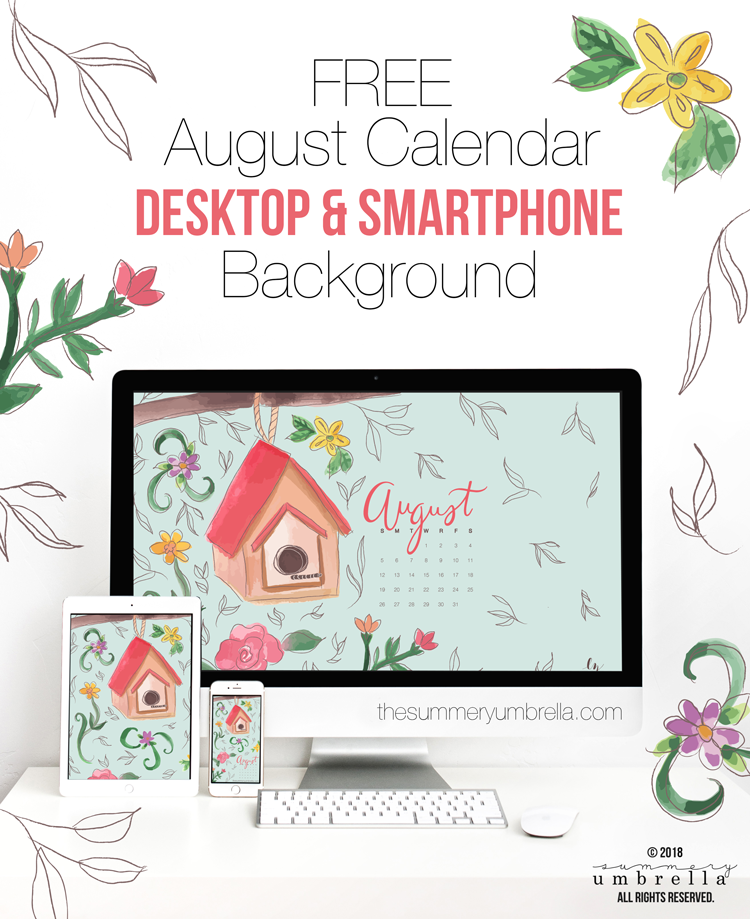 I can't say that I'm surprised that August is already here, but each time another month strolls through the year I swear it went by faster than the last one. Are you all pumped up for August to be here?
This coming month is going to be a busy one for our family for sure! School is starting on the 13th for Miss Ava. Then there will be gymnastics and science club, and countless other activities that I'm sure will consume our time once she gets in her own rhythm.
Plus, don't hate me for saying this, but I'm beyond psyched for pumpkin season. Yes, I am one of "those" that gets all giddy about pumpkins showing up in every recipe, home decor project, and designs galore! I can't help it. Fall is my season. It's when I shine, shimmy, and shake my hips 🙂
Desktop Download | Smartphone Download
Plus, I'd thought you get a kick out of this video that gives you a quick rundown on how I put together a lot of my artwork. Enjoy!

FREE August Calendar Download: Desktop and Smartphone Backgrounds
Do you love this design, and wish there were more that you could use for your own use? My friend, I have great news for you!
If you would like instant access to my ENTIRE library of hand lettered designs you can read more about how to subscribe to the Studio Pass here!
You know you're ready for the Studio Pass if you…
Want to stop wasting hours searching for quality vector files—and put that time back into crafting
Wish you had a selection for your projects that didn't look like everyone else's
Wonder what the pros are doing with vector art that you don't know—yet
Take a look inside.

Happy crafting!
Linda Zahora-Cathcart

Guess what? Every month I add 5+ designs to the The Summery Umbrella Shop, and I just know you'll want to check out these new beauties in the shop!
[recent_products per_page="12″ columns="4″]
Please remember: All designs, images, patterns, and calendars (but are not limited to) are © The Summery Umbrella, LLC. These items are for personal use only. You may not reproduce, recreate, or sell in any way. However, please feel free to download for your own personal uses. Also, this is exclusive content so you may not share these downloads with anyone, BUT I'd be most delighted if you directed your family and friends to my page. In fact, I'd be honored and thrilled. Thanks in advance for understanding!​​​ Read more about personal and single-business commercial use rights over on my Shop Policies page.