Turn an ordinary chair into an Upcycled Rustic and Modern Chair marvel!
Do you have a hard time throwing out furniture? Me too! I'm always afraid that I'm going to throw something out, and then suddenly realize I could have repurposed or upcycled it in some way. It's a terrible feeling, isn't it? Today's project developed from this exact emotion. It must be a repeating pattern for me. Do you remember when I did my upcycled flower planter chandelier ,or even the upcycled pendant light in my bedroom? I'm a such a sucker for these kinds of projects!
My husband's family gave us a table and chairs set that had been passed down from his grandparents, and you know me, I was psyched! I love getting new things! However, when we originally received this gift we didn't have a place for it. So, I decided to put it to use in my old studio. I painted it white and distressed it, but I just didn't think I was doing it justice.
Then suddenly, it dawned on me. This set didn't need to be lightened it needed some darkness in it's life. Thus, the upcycled rustic and modern chair was born!
Overall this chair is in really great condition being that it is several decades old, and also considering it has been stored in one of our "storage" areas for quite a few months.  As you can see, there is a lot random paint spillage from its studio days.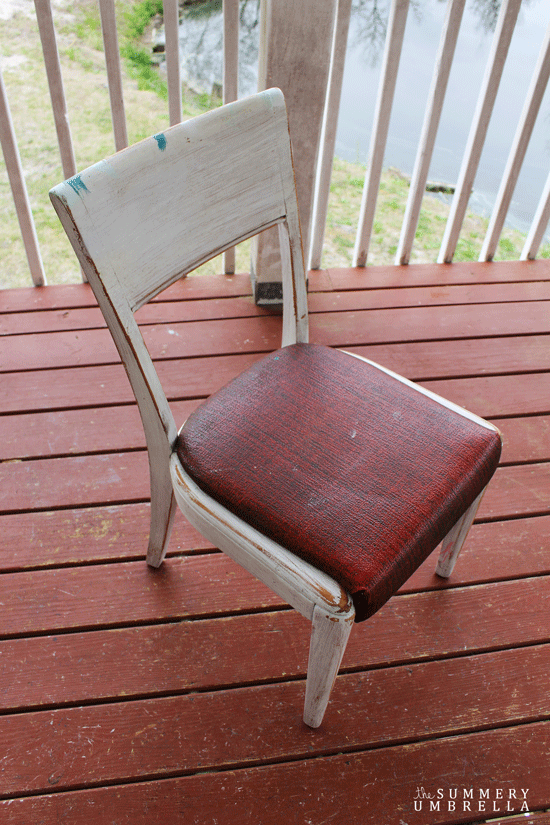 First, I pulled apart the chair seat from its frame. This particular chair was super easy to figure out. I just needed to pull out a few screws.

Next, I lightly sanded this baby down. I mainly was just looking for huge lumps of paint, and other random unneeded bits that would distort the overall look of the chair.
Normally I use whatever paint I have on hand, but for this project I actually went out (ok, ok, I made Mike do it!) and picked up a black paint in semi-gloss. Why? I hate gloss. It is such a pain to use. It reminds me of oil paints, and I've never enjoyed using them either. Plus, flat and satin paint just don't work or hold up well to items that will be handled a lot. Just my own personally opinion, and I use paint on a daily basis! :)
On this particular chair it took two coats of paint, and then round three was just for touch-ups. However, it will all depend on your own chairs and personal preference.
Originally I wasn't going to paint the actual seat cover (its made of a plastic-like substance), but the burlap I'm using was showing the red through it. I thought about folding the burlap over so there were two layers, but I just didn't like the "lumpy-look" that it presented. So, the top part of the chair seat was painted with one thick coat.
After the paint had dried on the chair seat I used this super simple technique to attach the burlap to it. All you need is a pair of scissors (to cut your burlap to size) and a staple gun. If you don't have a staple gun I highly suggest getting one! I just looked on Amazon, and they range from approximately $10 to $25. Super affordable, and I use mine all the time!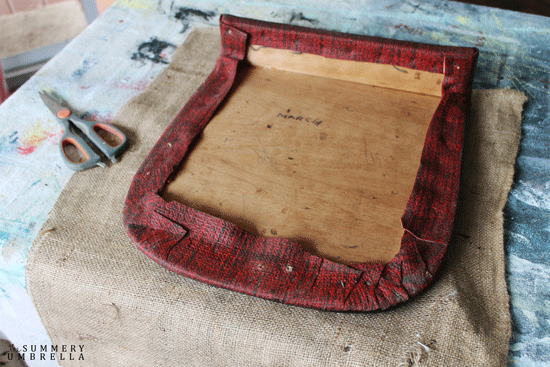 All you have to do is just fold over the burlap (see picture below) and staple it in place. You can't really mess it up, and it's pretty much a no-brainer! My only suggestion is that once you have two sides stapled into place just remember to pull tight the other two sides while you are stapling it into the seat. It'll give a nice, snug fit.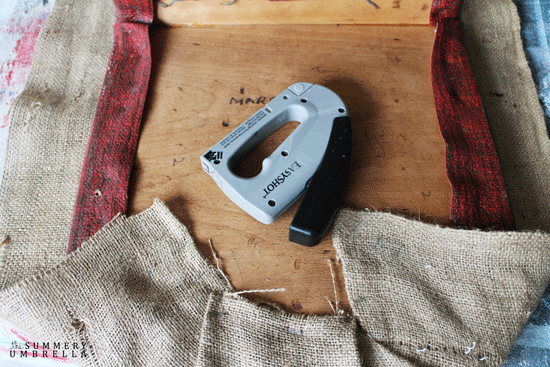 If you'd like to cut the edges to make the bottom look pretty you are more than welcome to, but since I'll never be looking underneath mine I just left them as is.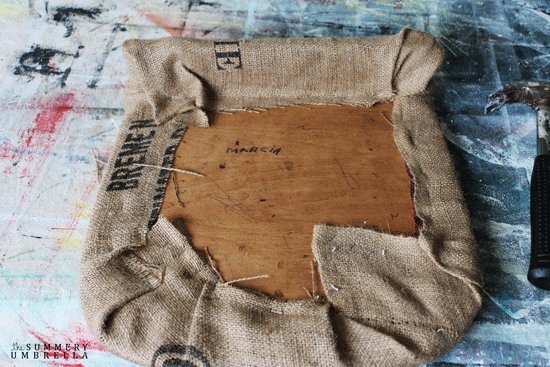 Now, all you have to do is put it all back together, and … poof! You have a brand spanking new chair!
Isn't she lovelyyyyyyy…. isn't she wonderful…. You know the song! Sing with me!
Isn't she preciousssss!
Ok, so I'm an uber-dork, but who cares? I'm loving this new creation big time :)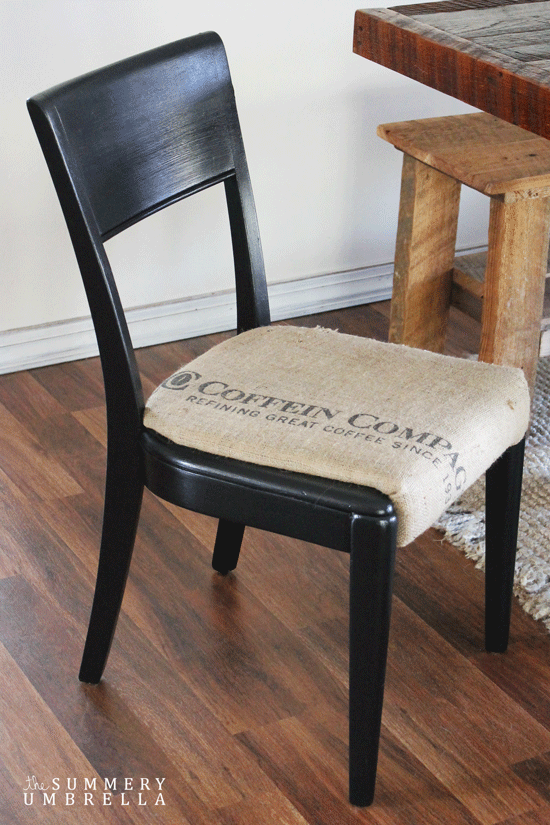 Happy Friday and have a wonderful weekend :)