A Rustic Secret Garden for Habitat for Humanity
Have you ever wanted to create your very own secret garden? Learn how in this tutorial using repurposed items and a whole lot of creativity!I was so excited and honored when I was contacted by Habitat for Humanity to create a project using exactly what I love… repurposed items and nature! T
Today on their blog they are featuring mine (and Ava's of course!) gorgeous and rustic secret garden and tea party. I had so much fun creating this beautiful area, and it has already been used countless times.
Plus, can't you imagine using the same basic principles creating other similar events? For instance, a wedding or even another celebration of sorts would be absolutely AMAZING in the woods! So many possibilities!
All you need for this for this project is a few basic items like:
reclaimed windows
branches
mason jars
candles
curtains
and other decorative items to make this place special!
Depending on where you would like to put your tea party will ultimately depend on how much work it will take to create. I first had to clear out a section of our woods since I wanted it to be tucked away. This particular cleanup took an entire Saturday to complete, but it was totally worth it!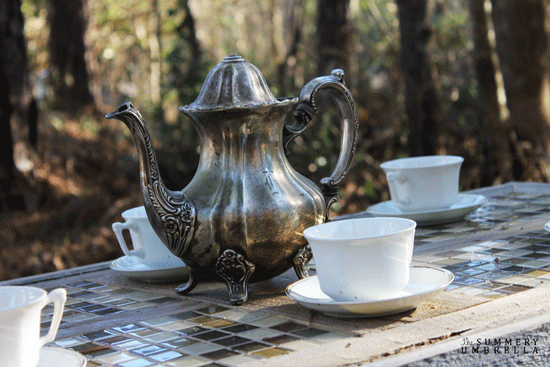 A Rustic Secret Garden for Habitat for Humanity
I do hope you enjoy this delightful tutorial! All you need to do is click here for the super easy tutorial as well as the remaining photos! Happy gardening 🙂
Follow me on:
Pssttt….. need a little more inspiration? Let me show you how I did it with this
DIY Kids Storage Ladder
or even
How to Paint a New Exterior Door
, or even better, join my newsletter in the following box below! I'll not only send you amazing new projects, but it'll also include product updates and you'll be the first to know about coupon codes and discounts. Don't miss out–join now!