I have great news! Much like yesterday, today's project is…. yup, you guessed it! Easy! Now, I have to admit that I have seen MANY, MANY versions of this particular diy tree stump table.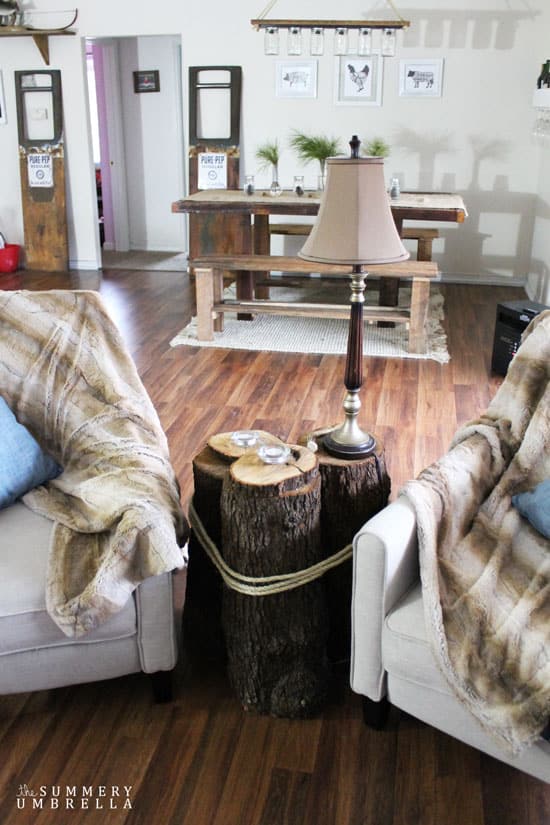 The majority of stumps that you'll see circulating the web are going to show that you should take off the bark from your stump or stumps.  
While I do like this method I wanted to try something a little different and keep it as natural as possible.
Like with anything in nature, you need to make sure it has been completely "sanitized" from mischievous varmints in nature. I had originally thought I would use these stumps for bar stools, but decided against it at the last minute. When they were first cut down I sprayed them (probably excessively!) with a termite preventative, and then they sat outside in this recent cold weather. I was very confident when I brought them in that I did not have anything to worry about.
As always, I HIGHLY encourage you to litter, I mean, decorate your home with nature, but just always be careful of what you are bringing indoors. Cleaning, lightly sanding and/or sanitizing for bugs should always be done prior to bringing them in! 🙂
Plus, layers are always a good thing! Don't you love how awesome these tree slices look on top of the stumps? Eek! So, soooo, so in LOVE 🙂
This post was shared with: