This 
DIY Arm Knitting Holiday Gift Idea
is not only SIMPLE to create, but very EASY on your budget too! All you need is a 30 minutes to get it done!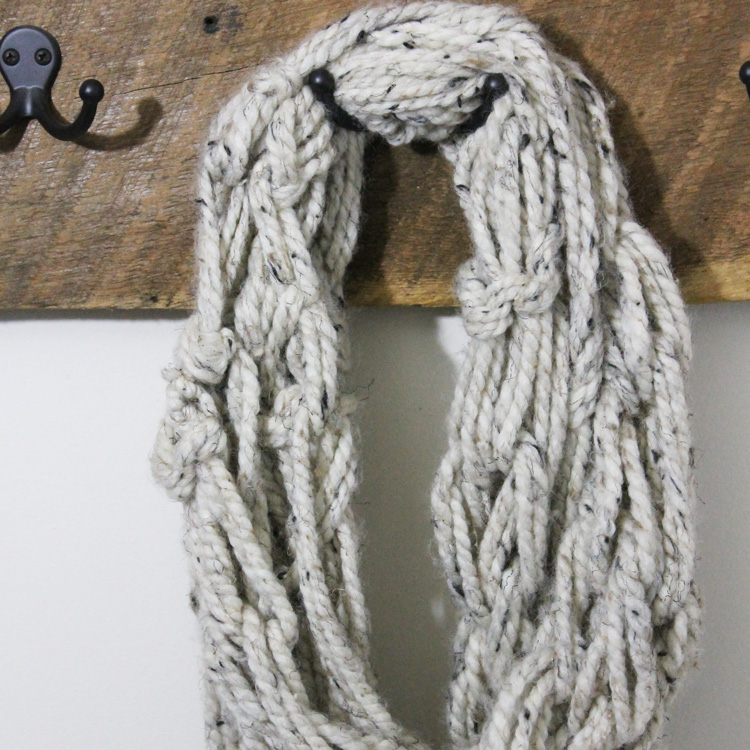 Last year I completely jumped on the bandwagon (which is very rare for me!) with arm knitting and the infamous infinity scarf. You know why? There are seriously a hundred different ways to either A.) create or B.) wear them.
For instance, you can create them in any color, or with practically any type of fabric or yarn. Personally, I'm not a huge scarf-wearer in the summer/hot months, but when it starts to get chilly outside I am all about them!
My favorite brand of yarn to use is the
Lion Brand Yarn
. I like that it comes in thick or thinner strands, but ultimately I prefer going chunky monkey style and in oatmeal.
Plus, they make the BEST gifts! Depending on what kind of scarf you are wanting to make and what type of yarn/fabric you are going to create they can range in price for as little as $3 a skein! Not too shabby for 30 mins or less of work.
DIY Arm Knitting Holiday Gift Idea
Coming in a close second is Lion Brand Yarn in Barley.
 Recently I put together a gorgeous scarf that is a little bit fuller than the scarves I've previously made. In the pictures above I used less stitches when I initially cast on (I believe it was 5), but with this one I used 12.
Before I send you on your way to start this awesome (and super affordable!) gift giving project let me give you a few pointers.
1.) If you plan on using two skeins for each of your infinity scarves (and you want to use the same color) make sure they have the same batch number.
For instance, on these particular Lion Brand skeins their batch number is 71190. So, they do indeed match. Now, for this project you might not notice any major differences, but if you were to knit a blanket or something of this nature the colors might be slightly off when you change from one skein to the next.
Side Note: Batch numbers basically explain if the skeins in question were dyed in the same batch of dye. Like with anything, colors can change slightly from one batch to the next.
2.) Pull your yarn out from the sides and not from the top (like in the below picture). The chances of your yarn getting tangled and knotted is more prominent if you start with the yarn end from the top.
But wait, let me stop here. Are you feeling confused? Originally I was going to do my own tutorial on how to create your own infinity scarf, but I soon realized that taking pictures with my left hand (or 10 second timer) just wasn't working in my favor.
So, I'm going to send you to my absolute favorite knitting expert,
Ms. Chandi of Expression Fiber Arts
, who has a ridiculous amount of experience, and plus I just love her quirky YouTube videos! ;)
DIY Arm Knitting Holiday Gift Idea
How to Arm Knit–Arm Knitting for the Clueless
Not to mention, if you would like to learn how to actually knit….  she's your girl! She's the reason I can knit today.
3.)  Oh yea, another helpful hint! If you plan on arm knitting with long sleeves, pull them up! If you decide to cast on 12 stitches (or more) you'll essentially need an easy surface to work with–aka. your arms.
This is just a visual image to give you an idea of what my scarf looked like before I folded it in half, and was sewn together.
And VIO-LA! My super chunky and amazingly awesome scarf. This baby will not let you down in the winter! It was made to keep you (and your loved ones!) warm :)
Looking for a cute and stylish way to wrap your scarf? Use kraft paper, paint cute little snowflakes, snowmen, leaves or other fall and winterish images, and then finally wrap it up with some twine or ribbons. Or you can try using like nature with your gift wrapping techniques like I did in this
Rustic Holiday Gift Wrapping Ideas post
.
Pssttt…. Don't forget to check out my DIY projects page chocked full of DIY and decorating goodness!