Do you love creating DIY decor and crafts, enjoy writing, and want to grow your blog? I'm looking for 4 monthly crafty bloggers to join my team for 2018-2019!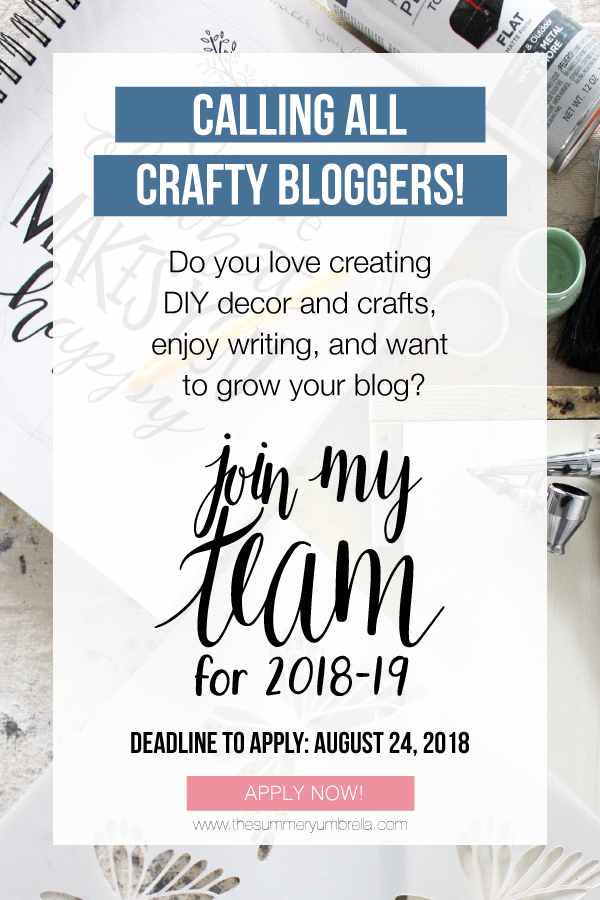 Calling all Crafty Bloggers: I'm Looking for You!
Hello, welcome, and thank you so much for your interest in becoming apart of my team! Please review the below details and if you think this would be a good fit for your own goals I'd be most honored to hear from you.
How I Plan on Helping You
Trust me, I get it. As a new or even seasoned blogger it can be incredibly hard getting recognized for everything that you do. With that being said, I want this opportunity to not only assist with my own goals, but yours as well! Here's how I will be promoting your amazing projects and blog:
Blog Posts:
On every blog post that you contribute you will be have the opportunity to introduce yourself and include a link to your blog.
Your bio and social media links will be included in every blog post.
You'll have the opportunity to link back to your own related content within your post, and also at the end of the blog post.
PLUS, your own watermark may be used in the lower, right corner on every photo.
Social Media:
Every post that is published will specifically mention your name and blog across all of our social media platforms.
All posts will be promoted again on all of our social media platforms a minimum of one week later as well as 30 days, 60 days and 90 days also mentioning your name and blog.
PLUS, 3-4 links directly from your blog will be selected on a monthly basis and shared with The Summery Umbrella readers. Those links will be shared across our social media platforms as a thank you!
On The Summery Umbrella Website:
Contributors will also have not one, but two very special pages dedicated just for them!
One page will be dedicated to the team as well as an entire page will be devoted to each author with a short description with all of the posts that they have created for The Summery Umbrella.
Newsletter: 
All of your posts will be shared with readers of The Summery Umbrella.
Monetary Compensation
Furthermore, besides the numerous ways you and your blog will be promoted there will be the following monetary compensation:
Base Pay: $25 USD per blog post
Video: $10 for each video tutorial will be provided (60 second minimum and one per post).
Frequency: Compensation will be paid monthly via PayPal based on the previous month.
Studio Pass Membership: Each contributor will have full access to The Summery Umbrella Shop as a member of the Studio Pass Membership for the duration of your commitment
The Summery Umbrella Contributor Commitment
Frequency: Contribute 1 new post every month
Commitment:
Each contributor will submit 8 monthly blog posts between October 2018 and May 2019.
Your publication dates will be determined at the beginning of your commitment via email.
Each blog post idea will be due 4 weeks prior to publication date.
Each blog post will be due a minimum of 2 weeks prior to publication date.
Content:
All posts must be original content created by you. No ifs, ands, or buts about this one!
However, after your post has been published on The Summery Umbrella you are more than welcome to use a highly edited version of this post on your own blog 6 weeks later.
Please keep in mind that Google does NOT like duplicate content. Republishing the same article elsewhere will only hurt all sites involved!
On the day your post is published, you can share one photo, a brief description, and then link back to your post on The Summery Umbrella on your own blog for your readers.
Be professionally written and easy to understand with a minimum of 300 words.
Includes high quality and clear photography. We believe in blogging with integrity and will only accept photos you've created yourself. Each post must include at least 3 images:
750 x 750 px square featured photo without text. This is the graphic for the featured image as well as on the category pages.
750 width x 1125 height OR 750 width x 500 height px for the remaining photos for your post
750 x 1125 vertical graphic for the Pinterest photo (I like to keep my Pinterest images consistent so I will put the text on all images).
All photos can include a discreet watermark with your blog/brand.
Creative! Nobody likes seeing the same topic/post over and over again. Think outside the box.
All contributors will need to be familiar with WordPress. You will be responsible for adding your content and images directly into The Summery Umbrella.
Topics: Each post will be based around one design within my shop (five new designs are added every month so please check back frequently). However, please feel free to let your imagination run wild! My designs can be used for everything from home decor (think pillows, wallpaper, rugs) to wall decor (signs, printables, wedding announcements) to various craft projects (organization, clothing, cards, coloring pages). Here are a few more examples of possible topics to get your creative juices flowing:
Other: No particular brand, product or service (other than designs from my shop or your own blog) should be advertised within your post. UNLESS however, you are using that specific product while you are creating your project. Affiliate links may be added to your posts, but you will not need to add them in yourself.
How to Apply
Are you excited?! Does this opportunity sound like something you'd be interested in? Then, I want to hear from you! Please feel free to apply at the below application, and I can't wait to hear from you. All applicants will be notified by the end of August if they have been selected.
UPDATE: Sign up is now closed! I'm sorry you missed you it, but don't worry. There's always next year :)